ArtReach St. Croix is looking for artists to be part of the 2023 Holiday Gift Gallery, a seasonal showcase and marketplace of St. Croix Valley artists.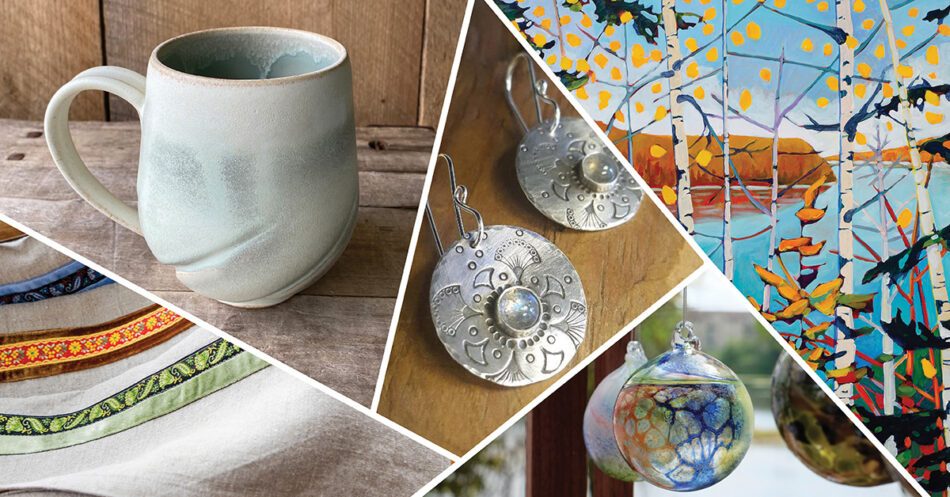 This year, ArtReach St. Croix will be hosting its annual holiday gift gallery at ArtReach St. Croix. This location has been successful over the past three years and allows us to offer a lower commission on sales. We will once again convert our South Galleries and current, newly-remodeled Gift Gallery into a cozy, welcoming holiday shopping experience.
The ArtReach Holiday Gift Gallery will feature high quality, well-crafted pieces with price points ranging from impulse buys to signature showpieces. We are looking for pottery, contemporary jewelry, fiber arts, woodworking, printmaking, paintings, glass art, sculpture, music and books by local authors and poets. In order to make sure we provide a comfortable shopping experience in our gallery space, we may limit the number of artists, or the amount of inventory per artist.
We will not be offering an online shopping portal, but we will include images from the gallery and of individual artist's work on artreachstcroix.org for those interested in "pre-shopping." Please keep this in mind when submitting images of your work with your application.
Consideration for participation in the 2023 ArtReach Holiday Gift Gallery is limited to artist members of ArtReach St. Croix. Membership starts at $40. If you would like to become a member, please complete a Membership Form online or return one with your Artist Application. If you have any questions or would like to check on your membership status, please call Syndie at 651-439-1465.
We rely on our participating artists to contribute their best work and to share gallery information with their network. ArtReach Holiday Gift Gallery utilizes, social media, public relations, physical signs and other marketing efforts to draw shoppers to the physical location.
2023 Holiday Gift Gallery Calendar
| | |
| --- | --- |
| July 2023 | Call and application available |
| October 1 | Applications due |
| October 13 | Accepted artists notified |
| November 9-11 | Artwork drop-off |
| November 16 at 4-8pm | Holiday Gift Gallery opens to the public |
| December 30 at 4pm | Holiday Gift Gallery closes |
| January 2-3 | Artwork pick-up |
Inventory & Commission
Artists who are selected for the Holiday Gift Gallery will receive information regarding the amount of inventory to bring to artwork drop-off. As items sell, artists may be notified if we are able to accommodate additional items.
Since we are utilizing our own space for the Holiday Gift Gallery, we will be offering a reduced commission rate of 30% for all participating artists. ArtReach St. Croix will handle the sales tax for all sales during the Holiday Gift Gallery. Artists will be paid within 14 days of the closing date.
Additional Information
If you are interested in volunteering to help cover sales shifts during the evening and weekend hours of the Holiday Gift Gallery, please indicate that on your application. If we have enough volunteers, we may be able to expand our open hours. At this time, the gallery hours are planned to be:
Tuesdays and Fridays, 10am-4pm
Wednesdays and Thursdays, 10am-7pm (volunteer shifts: 3-7pm)
Saturdays and Sundays, 12-4pm (volunteer shifts)
Application
If you are interested in participating in this annual event, please submit the application by October 1 at 11:59pm. The application form will ask for a brief description of your work, your price range, four representative images and an artist statement (250 words maximum). Please plan on submitting your work through the online form or by email. PDF Application Form