The arts have deep roots in the greater Stillwater area, with the history of an Arts Colony dating back to the 1930s. The colony was started by Jo Lutz Rollins in 1933. Over the years since, the arts have continued to be a defining part of who we are in the St. Croix Valley.
Art Reach St. Croix was founded in Stillwater, Minnesota in 1992, under the name River Valley Arts Council, as a grassroots organization and has grown into a community-based, multi-disciplinary organization serving artists and art patrons alike. In March 2010, we officially changed our name from ArtReach Alliance to ArtReach St. Croix. This was done to reflect who we are – a St. Croix Valley organization.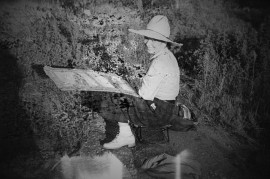 Today ArtReach stands poised to build on its history and growth. We offer multi-disciplinary programs that serve artists of all media as well as arts organizations, art patrons, and community members. Families and individuals come together to create, experience, learn and enjoy the arts together.
ArtReach St. Croix is the only arts organization in the greater Stillwater area that provides education, communication, promotion, ticketing, and experiential opportunities to both artists and the greater public. ArtReach St. Croix has a demonstrated history of being the leading force in collaborative activities in the arts, as well as nurturing other emerging arts activities. Over our seventeen year history we have matured in many ways. We originally began with only a focus on the visual arts. Today we host events in the area of literature (Valley Reads and literary workshops), performing arts, and the visual arts (Exhibits and family art programming).
ArtReach St. Croix is supported through memberships, individual gifts, ticket sales to events, donations from community and business patrons, and by grants from foundations and corporations.
ArtReach's goal is to continue to be a stable, evolving, growing organization that connects our community to the arts through artist resources, experiential programming, audience development and information.
"Art washes from the soul the dust of everyday life."  —Pablo Picasso