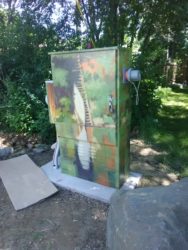 The Power of the St. Croix Utility Box Mural Project was funded through the 2018 Great Idea Competition Grant from the Stillwater Area Foundation, with the partnership of the City of Marine on St. Croix, the City of Stillwater, and the Washington County Historical Society.
This project seeks qualified artists and is requesting proposals from individuals/teams from the surrounding community to create two-­dimensional murals on selected transformer cabinets located in Marine on St. Croix and Stillwater. The Power of the St. Croix Utility Box Mural Project will celebrate the St. Croix River and our local artistic talent, while mitigating the negative effects of unwanted postings on utility boxes. It will also create lasting pieces of art that will improve the appearance of downtown for residents and visitors alike.
The idea to transform something that is unattractive – the common, bland green or grey utility boxes – into something beautiful is not new. Cities across the country, from Minneapolis to Fort Collins, have completed similar projects to beautify and enliven their downtowns.
The theme of this project revolves around the St. Croix River, as it is the river that connects our towns and communities. The project coincides with the 50th anniversary of the Wild & Scenic Rivers Act protecting the St. Croix Riverway. Submissions should be themed around the River – the natural beauty of the river or the history of the river – and can be realist or abstract, photography or a painting. There are endless possibilities with this project!
Please make sure you read Artists Guidelines and Instructions carefully before submitting your application. There is $500 available for artists to complete each box.
Marine on St. Croix Artist Application
The Power of the St. Croix Utility Box Mural Project is a standalone project and not a program of ArtReach St. Croix.