ArtReach St. Croix to host noir-themed "Totally Criminal Cocktail Party" featuring the St. Croix Jazz Orchestra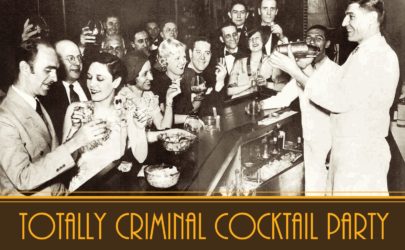 Trench coats and fedoras, bobbed hair and seamed stockings, smooth jazz and bootleg gin. As part of NEA Big Read in the St. Croix Valley, ArtReach St. Croix will celebrate Dashiell Hammett's The Maltese Falcon, this year's book selection, with a noir-themed Totally Criminal Cocktail Party.
By expanding the Totally Criminal Cocktail Hour, a monthly mystery and crime-fiction event held by Valley Bookseller for the past 15 years, ArtReach St. Croix will connect readers to The Maltese Falcon by transporting them back to the time of the private detective, femme fatale, and girl Friday
Partygoers will enjoy music from The St. Croix Jazz Orchestra, a civic jazz orchestra known for high quality performances of big band jazz. A quintet, featuring Hudson, Wis., vocalist Debbie will perform music common to the time between The Maltese Falcon's publication in 1929 and the release of the popular film adaptation in 1941.
"Since we can't host a Maltese Falcon-themed party in San Francisco, we decided the Hudson Caves are the next best place!" said executive director Heather Rutledge. "It will be fitting and fun to host the St. Croix Jazz Orchestra in such a cool venue."
The party will include a cash bar featuring specially created drinks, light hors d'oeuvres, and a photo booth with themed props, all in prohibition-era caves. Guests are encouraged to come dressed in period clothing or as their interpretation of characters Sam Spade or Miss O'Shaughnessy.
The event will be held on Thursday, April 27, from 6:30–8:30 p.m. at The Caves at Casanova, 236 Coulee Rd., Hudson. Tickets are $30 in advance at $40 at the door. Purchase tickets online at maltese.eventbrite.com.
For more information about NEA Big Read in the St. Croix Valley and a full list of events happening in March, April, and May, visit ValleyReads.org.
ArtReach St. Croix announced in May 2016 that it was one of 77 organizations nationwide to receive a grant to host NEA Big Read, a program of the National Endowment for the Arts in partnership with Arts Midwest. This year, programming will focus on themes related to the noir classic The Maltese Falcon. As a regional arts agency serving the lower St. Croix Valley, ArtReach is working in collaboration with arts organizations and libraries throughout the six county region to provide a range of activities associated with featured book. Theatre, music, visual arts, book discussion and other activities will take place in April 2017.