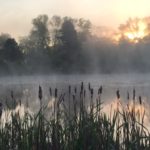 "Navigating Change in the St. Croix Valley: Finding Power at the Confluence of Art and Nature" is a visioning and guiding document published in May.
Artists, arts organizations, environmentalists and scientists came together to create an invitation to get active, get creative and get motivated to help shape change in the St. Croix Valley. Please read the artful results of our conversations about the values and the vision. Consider the opportunities that exist when we work together at the intersection of arts and nature to shape change in our communities.
Printer-friendly Navigating Change Document
Print copies of "Navigating Change" are available for distribution to your networks and speakers are available to address your group. Learn more about the Navigate project here.
a new point-of-view
the land where we stand matters
more than what we see
Haiku by Greg Seitz