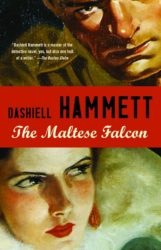 Keep a look out for The Maltese Falcon by Dashiell Hammett. Copies of the book will be popping up in Little Free Libraries, coffee shops, tap rooms and laundromats throughout the lower St. Croix Valley this month courtesy of ArtReach St. Croix as part of this year's NEA Big Read. Those who come across the book are encouraged to read it, then pass their "Read & Release" copy to another reader, leave it in a public place, return it to ArtReach, or keep it!
Numerous copies of The Maltese Falcon and book club kits can be found in circulation at local libraries too. Additionally, anyone interested in purchasing their own copy of The Maltese Falcon can receive a 15% discount at Valley Bookseller in Stillwater and Chapter2Books in Hudson.
Each of the copies purchased by ArtReach is marked with a sticker explaining the "Read & Release" program, along with suggestions for releasing the copy back to into the public. NEA Big Read programs will start in April, and include a talk by Julie Rivett (Dashiell Hammett's granddaughter and literary scholar!), a production of The Real Inspector Hound at the Festival Theatre in St. Croix Falls, and numerous book discussions across the valley. Dates and times for all these programs will be available on stcroixsplash.org.
ArtReach St. Croix announced in May 2016 that it was one of 77 organizations nationwide to receive a grant to host NEA Big Read, a program of the National Endowment for the Arts in partnership with Arts Midwest. This year, programming will focus on themes related to the noir classic The Maltese Falcon. As a regional arts agency serving the lower St. Croix Valley, ArtReach is working in collaboration with arts organizations and libraries throughout the six county region to provide a range of activities associated with featured book. Theatre, music, visual arts, book discussion and other activities will take place in April 2017.
NEA Big Read is a program of the National Endowment for the Arts in partnership with Arts Midwest.