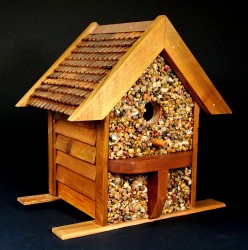 "Just a Birdhouse"  
Like a lot of my projects, I'll overthink.   After a couple of weeks I settled for …. "Its just a birdhouse."
Kept it all natural.  99% All cedar covers the pine with natural stone front.  ALL the wood is rubbed with Bee's wax-mother natures water repellant & wood conditioner. Roof shingles are nontoxic.  A vinyl developed by Dupont.  The roof cap is aluminum, treated with a nontoxic, rustproof paint; (hence the 1%).  Materials are recycled and/or repurposed.
Artist Bio: Tim Solyntjes
I'm a "multi-media" kind of artist.  I'll try out, incorporate, and challenge any ideas that come my way ….the plan is "ever-changing." …the finished piece; always satisfies.
Hope you enjoy the house;  I'm pretty sure the birds will.  -Tim S.