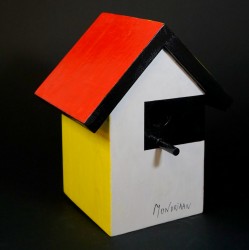 Birdhouse by Mondrian.c. 1906. Signed, limited edition of one.
What's not to like about the stark simplicity of Mondrian's work. Why the two spellings? Mondrian was a Dutchman, although he spent much of his life in France (between 1911-1914 and 1919-1938)… however, he lost the second "a" in his last name between 1905 and 1907 when still in the Netherlands!
Pieter CornelisMondriaan was born March 7, 1872 and died February 1, 1944 in New York. He was an important contributor to the De Stijl art movement that was founded by Theo van Doesburg. He evolved a non-representational form that he called neoplasticism which consisted of white ground on which was painted a grid of vertical and horizontal black lines and the three primary colors.
This birdhouse is modeledon a Look bicycle: it uses a carbon fiber frame made by hand in France. For some years Look has used a Mondrian-like logo and custom designed several bikes in their interpretation of Mondrian's neoplaticism: red, blue, yellow, white and black with the grid lines of black. These bicycles are beautiful.
This early Mondriaan birdhouse, signed prior to the spelling change of Piet's last name and thus, it can assumed, is prior to 1906. It's clearly brush painted by hand, its patina now reflecting at least 110 years.
Artist Bio: Tim Parker
Tim Parker is no artist. A product of the English private boarding school system where English Literature, Divinity and History ruled, and Art was only for those who were to be bullied, Tim focused on rugby football and rowing, just scraping by so that upon graduation he would be employed as a van driver by the local newspaper published in the city of Cambridge, England. In fact, this was a perfect job for it enabled him to hone his driving skills, which after 50 years is still a lasting passion today. Immediately mistaken by a number of future employers as a graduate of the University of Cambridge – something never questioned and thus never denied – he worked in book publishing for the next 40 years rising to President and CEO of the local Motorbooks International, yet building and racing motorcycles, bicycles and cars when he could. A resident of Stillwater, now, for 30 years, this is a first, both art and birdhouse.