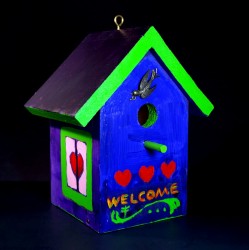 Honeymoon Cottage
Honeymoon Cottage was inspired by the love I feel toward the birds that come year round to my feeder and birdbath, providing immense beauty and entertainment.  The concept is a birdhouse fashioned after a vacation rental cabin,  a Honeymoon Cottage for bluebirds.   Or maybe sparrows.  Doubles as a nursery.  Designed for functional use.  Materials include prefabricated birdhouse, acrylic paint and love.  One found object.  One item manufactured:  important signage.  One side advertises "Vacancy."  Reverse side informs "Do not Disturb."
Artist Bio: Stephen James Gates
Stephen Gates was raised in the St. Croix Valley.  His drawings typically feature brightly colored scenes of the St. Croix and Mississippi River valleys as well as the Caribbean.
"Color is all important in my art," he explains.  "I use color to illustrate the feeling of a particular scene.  The outlines of the objects in my drawings are less important and less realistic than the colors, which I always try to make as authentic as possible."  His favorite mediums include pastel chalk, oil, acrylic, and woodblock printing.
Gates began his formal art education in 1966 at St. Cloud State University, continued at the St. Paul College of Visual Arts and The University of Minnesota.  His work can be found in juried, individual, and group shows as well as private collections.  A collection of his work is currently on exhibit at the Hudson Hospital.  For more information call (651-351-7202).