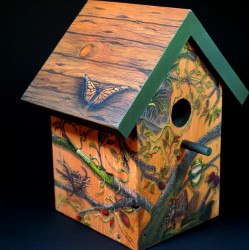 Outside the Box
This house is interactive,
A game for some to play;
For those who venture Outside the Box,
They'll see where hidden treasures lay.
An elephant, spiders and alligator,
A lizard, fish and bear
Are some of the hidden treatures
Along with some green footwear.
If you look beyond the obvious,
Free your mind and open its locks,
A hand and a heart you just might see
If you're playing Outside the Box.
Acrylics, colored pencils and imagination were used in the evolution of this birdhouse's exterior. At first glance you may see the obvious vines, flowers, moss butterflies, etcetera as the extent of décor. But to reveal the bear, elephant, crocodile, fish spider and other less noticeable elements, expand your awareness beyond how you think it ought to be. Look deep and think outside the box.
Artist Bio: Peggy Fowler
As a recreational artist, building and adorning birdhouses with images found in nature has provided a way to converge the love of art, woodworking and nature. By masking embellishments, it allows an unexpected interaction for those able to see beyond the conventional designs and find the less obvious disguised objects found throughout the exterior décor.