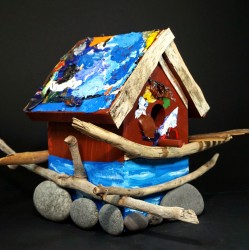 Birds on the Water
This was a collaboration between husband and wife. "Birds on the water" Yes, this did somehow worked out.   Our bird's on the water was inspired by our favorite place Lake Superior. I first peeled off my dried paint on my pallet to begin our project and noticed that it was a perfect fit for the roof.  Then Bob kept bring up rocks, sticks, glass that we found on the beach's around the lake.  Everything used on the bird house was provided by Lake Superior.
Artists Bio: Monica & Bob Jones
Monica Jones
Graduate from Minneapolis College of Art and Design. Loves to paint / We both love to create art in any medium any chance we get.  When we go camping we usually pack the studio to go with us.
Bob Jones
Graduate from University of River Falls a sculpture by heart.  /We meet each other 34 years ago in the River Falls Art department and the rest in history!
"Taking art to the edge of collapse is a beautiful sense of balance" Andy Goldsworthy