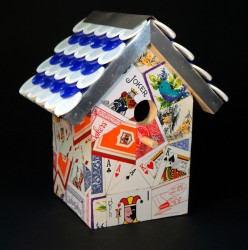 House of Cards – Full House
We used these cards to play with for years in our kitchen, watching the birds.
Our cards have a joker, full house, flush and a straight flush. Roof is poker chips and metal flashing.
Artists Bio: Michelle & Dennis Dame
Michelle & Dennis Dame live on north hill on Cherry ravine.  They work together in a self-employed business called Everyday Services.  From house cleaning to shopping, chef work, etc…
We love the birds and feed them all year long.  We're in love with nature.