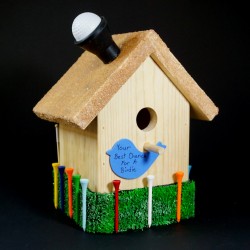 Your Best Chance for a Birdie
My Birdhouse is a take -off of a Golf scene. The inspiration came from my Summer job at Indian Hills Golf Course. From the lush green grass at the bottom to the sand trap including rake at the top. The blue bird on the front includes the say that represents my golf game "your best chance for a birdie".
Artist Bio: Linda Thueson
My name is Linda Thueson and I am a novice artist in the St Croix Valley area. I have been taking many classes in the area from local artist, including acrylic painting, watercolor, whimsical art, and fused glass. I also enjoy singing and photography, and I always can be found with camera in tow.