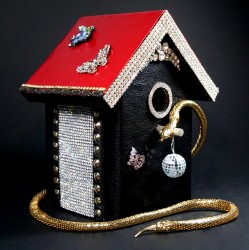 "Birdhouse Bling"
Recalling the days of disco, glitz and glamour…."Birdhouse Bling" demonstrates that "diamonds" may also be a birds best friend!  While this bird house may appear to celebrate extravagance, it is covered with leather from purses found at a thrift store outlet and decorated with simulated diamonds, beads and bangles donated to charity.
Artist Bio: Kevin Smieja
I am a creative soul who loves to think outside the box and re-purpose items that may at first, seem contradictory in nature.   My passion is music, but I love to experiment with all types of media.  "Birdhouse Bling" challenges us to think differently about what our feathered friends (and we!) are really looking for in a home!!