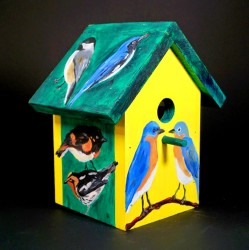 Jennifer Sobiech-Pariseau's ArtReach birdhouse features twelve birds who can be seen in the St Croix Valley. The black-capped chickadee, downy woodpecker, and white-breasted nuthatch can be seen year round at bird feeders. The chestnut-sided warbler, yellow warbler, American redstart, magnolia warbler, pair of eastern bluebirds, blackburnian warbler, black-throated blue warbler, and Nashville warblers migrate to the valley for the summer season. The birdhouse is functional and has been sealed for outdoor use.
Artist Bio: Jennifer Sobiech-Pariseau
Jennifer Sobiech-Pariseau returned to the St Croix Valley a couple of years ago after working for various state and federal agencies around the country in natural resources. Her work as a bear technician in Yellowstone and Denali National Parks as well as her song bird survey work with the USGS in Wisconsin inspired her art work and she has been painting murals on closets and walls, making bird houses, painting canvases with mixed media ever since. Her main focus has been nature and birds in particular, as her website, Facebook, and etsy pages allude to: CheepFrills.com and Jens Cheep Frills respectively. She is active on the Lake St Croix Beach recycle committee and utilized recycled materials in most of her art work. She plans to participate in several arts and craft shows in 2015, including Webster Wisconsin on Memorial weekend, Little Falls Craft Show in September and Hastings Minnesota in July and more.