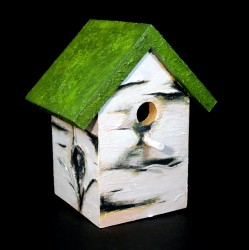 If we were birds.
Imagining life as a bird, this birdhouse reflects what my husband and I would live in as a bird couple. An old birch tree with a green, mossy roof. Full of character and life. Materials: Acrylic paint and molding paste. Using my fingers I molded the notches and bark of the birch tree. Then applied paint with brushes.
Artist Bio: Jennifer Anderson
Each of my works is a self portrait describing a part of me and my life. I explore and pull details from stories, people and the world around me, jotting down the different scenes and pulling on the emotions they hold. I use nature and the female figure to relay stories of human life as well as my own.                          
I have a strong love for and connection to nature and all it has to offer. Because of this, nature appears in many of my works. Using places I visit and have lived, I draw my landscapes as an emotion and document a memory of how I felt looking at a certain mountain, lake, or scene. Life can be illustrated through the amazing earth, and the many life forms it can create and take away. Each living thing has a purpose and a place, and I draw from their life to create a connection or meaning with my own.