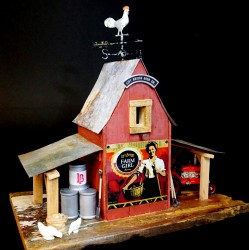 "Farm Girl"
The inspiration for this birdhouse is from Farm Girl Beer, Lift Bridge Brewery's nod to the humble farmer and the hardy folk who tirelessly work the land. Farm Girl's sturdy character and attractive warm sun-kissed glow, combined with a modicum of orange flirtyness, make it the kind of beer you want to bring home to mother. Hence the oft' heard "I'll have a Farm Girl".
This birdhouse is made from wood salvaged from an old Bayport, MN building and tin salvaged from an original Stillwater farmstead. It includes a rare vintage salesman's sample weathervane on the top from the late 1800's or early 20th century. The tasteful graphics used by Lift Bridge on their aluminum cans make a perfect visual addition to the painted red barn. Made for decorative use.
Artist Bio: Jane Dierberger
Jane Dierberger is a local painter who shows her work at the Stillwater Art Guild Gallery as well as several local restaurants. She writes a column called "Spotlight on Art" for the Stillwater Gazette and is a volunteer for ArtReach and the Minnesota Museum of American Art in St. Paul.
Artist Bio: Charlie Joy
Charlie Joy is proprietor of Woodstock Furniture, a woodworking shop with artistic flair located 2 miles North of Stillwater on Hwy. 95 at the big red chair. He builds finely crafted goods including rustic furniture, extraordinary Adirondack chairs and a complete line of furniture for the home, yard and garden. Charlie's motto is: "don't just do something. sit there."®