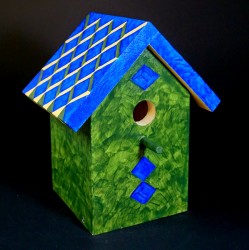 Tumbling Blocks
Using the birdhouse provided, the artist chose to paint it in colors representing the sun (yellow), the sky (blue), and the trees (green).  A coat of primer was applied to the raw wood before two coats of acrylic paint comprise the decoration.  The roof design borrowed a quilt pattern called "Tumbling Blocks" which suggests flowing water.  With its palette of colors from natures, this little birdhouse would look very nice outside.
Artist Bio: Gloria Sell
The artist has previously made birdhouses using cedar scraps remaining from the last siding repair on her house; the ArtReach St. Croix Birdhouse project is her first attempt at decorating one.  What is important to her is that she provides shelter along with water and food for the birdlife that share her Stillwater Township property.  Bird feeders are kept filled year-around.  A heated birdbath is provided during the winter months and a man-made pond is available during summer for bathing and drinking.