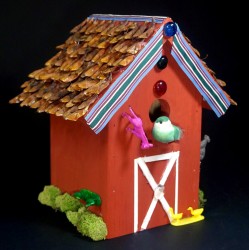 This birdhouse is a quasi Fauvist/quasi classic concept meant to invoke our love of all things farm in a fun and vibrant way. The shingled roof is made of white pinecone collected on the farm.
Artist Bio: Buttermilk Falls CSA & Folk School Retreat
Our artists reside on site at a CSA farm and folk school in Osceola, WI. We emphasize wellness and spirituality alongside the arts.