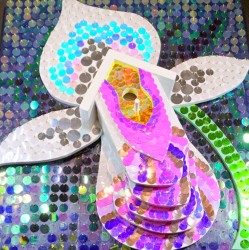 Celebrating spring and the Minnesota State Flower, this birdhouse is constructed from wood, paint, brass nails, and large reflective discs.   This Showy Lady's Slipper  (Cypripedium reginae) is an experiment in materials and color– as Sculptor Debbie Elmer primarily works bronze sculpture.   Working on this piece for ArtReach St. Croix was a wonderful way for her to contribute to helping ArtReach meet their regional arts marketing goals and to herald the dramatic return of our mid-western spring.
Artist Bio: Debbie Elmer
A Wisconsin native, Debbie Elmer has returned to the area to establish a bronze sculpture studio.  She spent ten years living on the east and west coasts while pursing apprenticeships in the arts with some of the top figurative artists in the country. This unique educational opportunity provided extensive training in anatomy, creating monuments, and managing large-scale studios.
Working predominately in bronze, she creates her original sculptures in wax and clay. She then casts her sculptures at a foundry in bronze using the "lost-wax" method. Her sculptures are heavily influenced by traditional figurative training. Debbie is fascinated by materials, the process of creating, and the stories of who we are as individuals and how this can be portrayed in sculpture.
Debbie Elmer has exhibited across the United States and is included in notable private and public collections.   She has received numerous awards including recognition from the National Sculpture Society, the Lyme Academy College of Fine Arts, the Pennsylvania Academy of Fine Arts, and the American Academy of Arts and Letters.