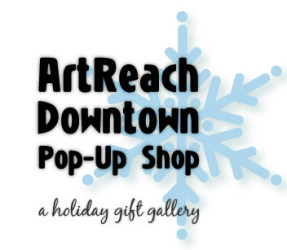 Imagine a shop that will represent the amazing art being created in the St. Croix Valley: pottery and contemporary jewelry, fiber arts and woodworking, printmaking and painting, glass artists and sculptors, music and literary arts.
The ArtReach Downtown will be a pop-up gallery with high quality, well crafted pieces with price points ranging from impulse buy to signature showpieces. In an effort to create the most beautiful and cohesive pop-up gallery, we may limit the number of artists in a particular medium.
Consideration for participation in the 2015 ArtReach Downtown holiday gift gallery is limited to artist members of ArtReach St. Croix. Membership starts at $35. If you would like to become a member or check on your membership status, please call Syndie at 651-439-1465. The commission rate for ArtReach Downtown is tiered depending on if an artist works two or four shifts at the downtown location.
We rely on our participating artists to contribute their best work. ArtReach Downtown is a high visibility effort at a busy time of year. Please consider volunteering to work two or more shifts during the run of the pop-up shop. Collectively, we will tap into all of our networks to spread the word about the unique holiday shopping opportunity. We need everyone to chip in to make this a huge success.
If you are interested in participating in this holiday event, please return the Intent to Participate form, four representative images of your work, a head shot, and artist statement (225 words maximum) to ArtReach St. Croix by November 1, 2015 via mail or email.
Please be prepared to bring approximately 50 business cards with your artwork on the drop-off date.