Mending – A mobile art exhibit and reflection of a world in crisis
ArtReach St. Croix, in partnership with guest curator William G. Franklin, is seeking artists for Mending, this summer's Mobile Art Gallery exhibit focusing on damaged objects and their connections to people as the start for a reflection and conversation of a world in crisis. The exhibit will include work by artists from Afton, Marine on St. Croix and Stillwater among others and will be on view at three St. Croix Valley parks allowing visitors out for a morning or afternoon hike to have an unexpected art experience.
A selection of perturbed and/or damaged objects will be exhibited to serve as catalyst for a conversation on personal histories, human fragility, anxiety and hopes for the future in these difficult times.
Artist participation in Mending is voluntary and interested artists are asked to respond to the Open Call for Artists to be considered. New work is not required, but rather should be damaged, broken or unfinished or otherwise reflect human fragility. All media will be accepted and considered.
Submission Deadline: July 1, 2020

Artists are invited to submit images of up to three pieces of work that could be original artwork relevant to the exhibit concept, unfinished artwork or damaged everyday objects with emotional importance. Selected artists will be asked to exhibit one object for the length of project and will be invited to participate in an artist talk facilitated by the curator and broadcast online. 
Mending will be on view for three weekends in July and August and will travel to Afton State Park, William O'Brien State Park and Lake Elmo Park Preserve. A series of talks with artists and special guests moderated by the curator will be an integral part of the exhibition. An opening event will take place the first day of each weekend at the three locations. 
Do not be dismayed by the brokenness of the world
All things break. And all things can be mended.
Not with time, as they say, but with intention.
So go. Love intentionally, extravagantly, and unconditionally.
The broken world waits in darkness for the light that is you.
Curatorial Guidelines and Artist Information
Submit one or two images (.jpg format) of the perturbed/damaged object or artwork that you would like to be considered. Images should be accompanied by a brief (100 words maximum) statement on the way in which this object or work speaks directly or indirectly about human fragility, anxiety, hurting or hope. Artists may submit up to three objects for consideration.

Submissions should be an ordinary object of your belonging that has suffered some aggression or accident

OR

past or current artwork in any media that has been damaged, vandalized or left unfinished upon frustration.

Indicate if you would like to be considered for an artist talk with the curator and staff member of ArtReach St. Croix as part of the project. Talks will be streamed online as webinars allowing the public to attend upon registration. A willingness or ability to participate in an artist talk will not be a consideration for selection.

ArtReach St. Croix will highlight your work and story via social media. Please share links to your Instagram account, artist Facebook page and/or professional website to be used in these promotions.
Artist Calendar
July 25     

12-4pm, Artwork drop-off at ArtReach St. Croix, Stillwater*

July 30 – August 2     

Thursday evening concert and artist reception; Exhibition on view through Sunday at William O'Brien State Park, Marine on St. Croix

August 20 – 23     

Exhibition on view and Concert at Afton State Park

September 12     

Concert at Lake Elmo Park Preserve

September 19     

12-4pm, Artwork pick-up at ArtReach St. Croix, Stillwater*

TBD     

Exhibition on view at Lake Elmo Park Preserve
 *If artwork drop-off or pick-up dates or times do not work for you, please email [email protected] to schedule alternate arrangements.
William G. Franklin is an educator and an independent art curator. He teaches history of modern and contemporary art at the Minneapolis College of Art and Design. Franklin works as bilingual educator for the Walker Art Center giving tours of the exhibits to students and guests and assisting with community events. Franklin has juried student exhibitions, served as panelist reviewing applications for grants, and advised in art committees. This year he served as panelist for the Anderson Center Residency Program in Red Wing, Minnesota. Franklin's most recent curatorial project focused on the migrant caravan crisis, the exhibit Caravan was held at Concordia Gallery in St. Paul from November through December of 2019. He will be teaching a course on contemporary art at Saint Cloud State University and a graduate Liberal Arts seminar for the MFA students at MCDA this fall.
ArtReach St. Croix is a nonprofit regional arts organization committed to the mission of connecting communities to the arts throughout the St. Croix Valley.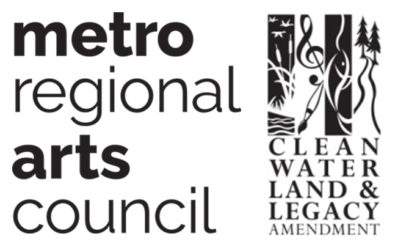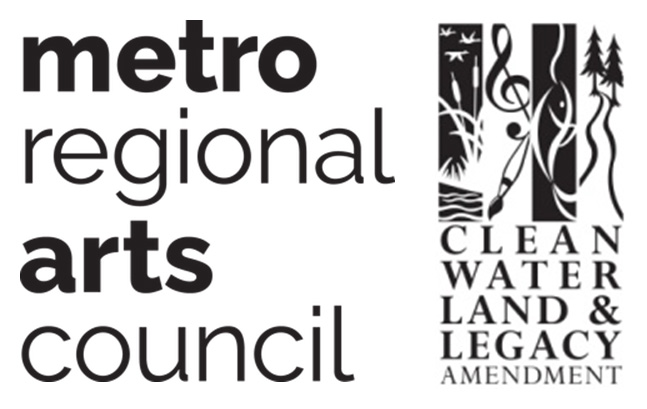 The Mobile Art Gallery summer exhibition and concert program is a partnership between Minnesota State Parks Naturalists, Washington County Parks Naturalists and ArtReach St. Croix. This activity is made possible by the voters of Minnesota through a grant from the Metropolitan Regional Arts Council, thanks to a legislative appropriation from the arts and cultural heritage fund.