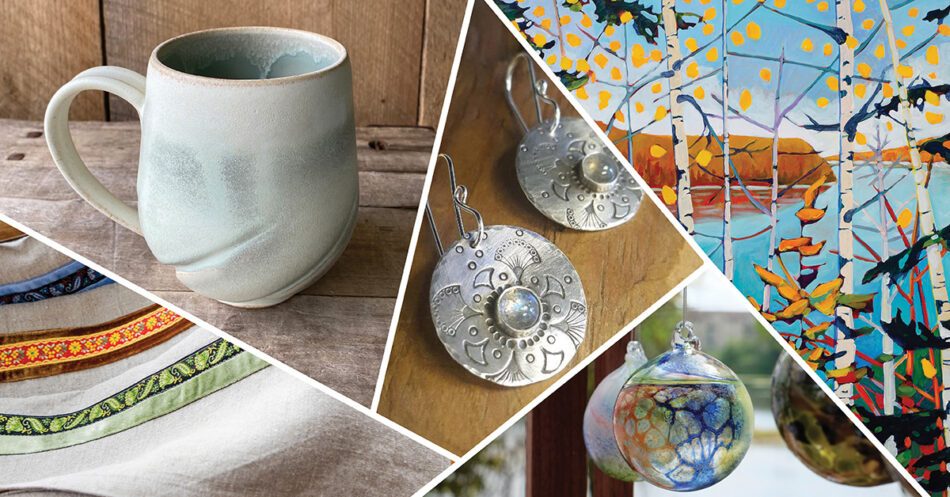 NOW ACCEPTING ARTIST APPLICATIONS FOR 2023 HOLIDAY GIFT GALLERY
ArtReach is looking for artists to be part of this year's Holiday Gift Gallery, a seasonal showcase and marketplace of St. Croix Valley artists. We will once again be converting our South Galleries and current, newly-remodeled Gift Gallery into a cozy, welcoming holiday shopping experience. The Holiday Gift Gallery will be open Thursday, November 16-Saturday, December 30. If you are interested in having your art included, learn more here.
Give a thoughtfully chosen gift and support local artists by shopping at the ArtReach Holiday Gift Gallery! That's right, the Holiday Gift Gallery is back! You will once again love that the gallery is transformed into a cozy, artful shop featuring more than 35 local artists. Discover unique, artist-made gifts that will make this holiday season even more special!
OPEN: NOVEMBER 17 – DECEMBER 31
HOURS
Tuesdays, 10am-4pm
Wednesdays, 10am-8pm
Thursdays, 10am-8pm
Fridays, 10am-4pm
Saturdays, 12-4pm
Sundays, 12-4pm
Mondays, closed
LOCATION
ArtReach St. Croix
224 N. 4th Street, Stillwater, MN
(corner of 4th & Mulberry)
Plenty of free parking!
Hours will vary on holidays: Wednesday, November 23, 10am-4pm; Thursday, November 24, CLOSED; Saturday, December 24; 10am-2pm; Sunday, December 25, CLOSED; Wednesday, December 28, 10am-4pm; Thursday, December 19, 10am-4pm
HOLIDAY GIFT GALLERY PREVIEW
2022 HOLIDAY GIFT GALLERY ARTIST
Emily Anderson, Colleen Baldrica, Victoria Barkely, Pat Barsness, Leslie Batt-Lutz, Begonia & Bench, Katherine Buenger, Sue Cranston, Pauly Cudd, Guillermo Cuellar, Cynthia DeMar, Wendy Fernstrum, Joy Gerard, Kate Harri, Diana Hatchitt, Janel Jacobson, Susan Johnson, Jon Kamrath, Dominique Miller, Mio Soaps, Anita Otteson, Carol Patt, Brittany Polzin, Kristin Prideaux, Paul Randall, Nina Martine Robinson, Joseph Samuelson, Emily Schollett, David Spohn, Needle & Spool, Susan Strand-Penman, Ruth Thompson-Klabunde, Traveling Tomte, Cathy Weyerhaeuser, Todd Williams