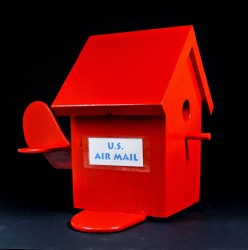 I've selected the theme of "Air Mail" for this year's birdhouse. I figured it might be a mailbox drop off for birds, should they want to mail a letter or pay a bill.   I'm not sure where they buy their postage stamps though.  That may be a subject for the future.
Artist Bio: William Ersland
"A University degree with a major in Art gave me the academic foundation for a career as an artist.  Thirty years ago I moved to the town of Stillwater, Minnesota."  He has a national reputation as an Equine Sporting Artist, and is represented in three galleries from Florida, which features his Fox Hunting artwork, to Santa Fe, NM and Colorado, where his Western Artwork is on display.
Ersland divides his working week between gallery paintings and his horse, Ike. "My enthusiasm for the sport probably outmatches my present riding ability, but riding gives me a greater understanding of my subject matter."
Ten years running, his paintings have been featured in the Cheyenne Frontyier Days Western Spirit art Show, a nationally juried competition of Western Artwork, a subject that originates from his interest in horses, riding and American History.  He won a Blue Ribbon in 2012 for the Best Acrylic painting.
In 2011, Ersland won three awards at the same show:  Best in Show for the Western Art division of the Western and Wild Horse Show in Rock Springs, Wyoming, Second Place in Wild Horse Division and an Honorable Mention for the overall show.
William Ersland www.wiliamersland.com