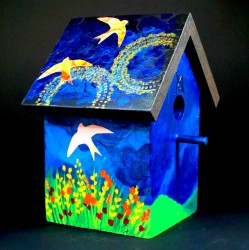 Circles: are the memories that are being forgiven.
Faded colors: are what others see me as during this time—as if I seem distant, as if I was in the clouds.
Birds: are hope and promise of a new beginning.
Media: Acrylic paint, gold leaf, iridescent and pearl glazes, recycled gift wrap papers, glitter, glues, India ink, soft and oil pastels. This is ready to be left outside during spring, summer and fall, but I would bring it in for Minnesota's harsh winters.
Artist Bio: Alice Savitski
I started this "journey home" in the winter of 2013, when I discovered an amazing support group of people who love me for who I am and want to become. I feel I am not judged on my past choices but on how I live my life now. These people are slow to anger, even when I've screwed up and haven't been sure they would let me back into the group. Instead, they have welcomed me back with arms wide open, which puzzles me even now.
I've been witness to a love so much bigger than myself and forgiveness that stretches in open waters Love and forgiveness have enabled me to forgive past relationships; to build the self-worth to forgive myself. This piece is about the progression from forgiving and letting go of the fear, to self-worth and self-love.